A small collection of artists that are creative, skilled and, genuinely nice. They also take commissions, and I would highly recommend any of them. Please take a moment to at least check out their beautiful work!


One of the kindest and most compassionate person that I have met, she is constantly finding ways to better the world around her through her art, her charity work, and her overall positive attitude. She co-founded the
Save-the-tiger
group with me... and by "co-founded," I actually mean "set up and operated practically single-handedly." She also draws some of my favourite felines.
:thumb272374842::thumb264011479::thumb263283611:

Great at giving critique and gracious in accepting it, she's a fantastic artist with a unique, vibrant style and a drive for improvement. She has beautifully stylized work with creative themes. Plus, she's fun to talk to and is more than willing to help out other artists that are genuinely looking to develop their skills.

She works in many different mediums with very diverse subjects and settings, yet still manages to capture a very distinct, beautiful style. She's also fantastic to commission; very friendly and prompt (definitely more so than I on that latter account).

She does some of the most intricate, organic, and creative sculptures that I have seen to date. I highly recommend her for sculpture commissions. They are a bit pricey, but by far and away worth it for the care and detail that she puts in these. The photos really can't do justice to how amazing her work is. My tiger/rat sculpture from her (last image) is one of my prized possessions.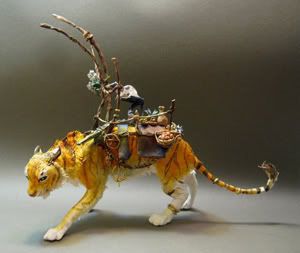 Thank you for reading! I hope that everyone is having a marvelous 2012.

MSW